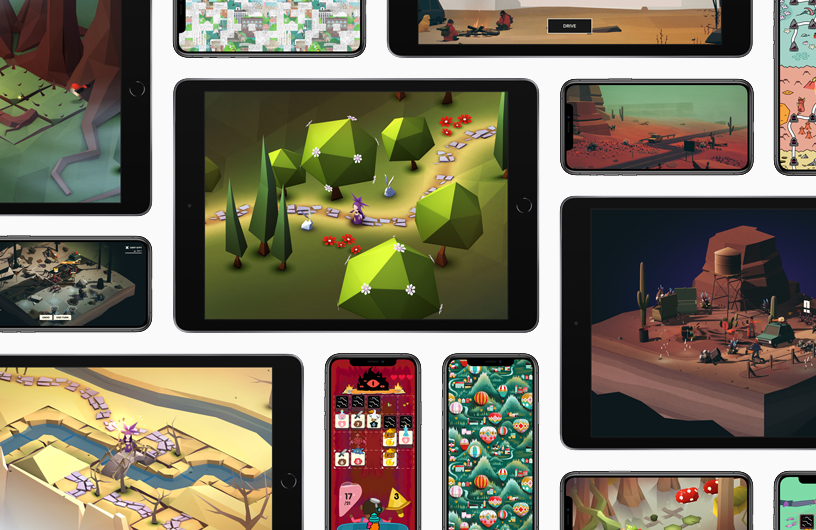 Apple Arcade: What It Is, How To Access, What To Play
September 19, 2019
The Apple Arcade, Apple's all-you-can-play video game subscription service for essentially all of its products, hits the iPhone on Sept. 19.
The service will cost $5 a month for everyone in your family to access on an iPhone, iPad, Apple TV, and Mac — once it fully rolls out — but this is initially for the iPhone only. The good news is that it's also free to check out on your own for the first month. Here's a rundown of how to get Apple Arcade, what the service launches with and promises to ultimately deliver, and — most importantly — what that first run of games is like to play.
How To Get Apple Arcade
Apple Arcade sounds like it might be an app of its own, but the reality is that it's simply a subscription service built into the App Store. To access it, you first need to update your iPhone to iOS 13 — an upgrade set to hit on Sept. 19. The iPad and Apple TV get the update on Sept. 30 and Mac gets it in October.
Once your iPhone is updated, simply launch the App Store and you'll see a new icon along the bottom of the phone that shows a joystick and is labeled "Arcade." Click on that and you'll be asked to sign up for the one-month free trial. Once in, you have full access to all of the games currently available through the program.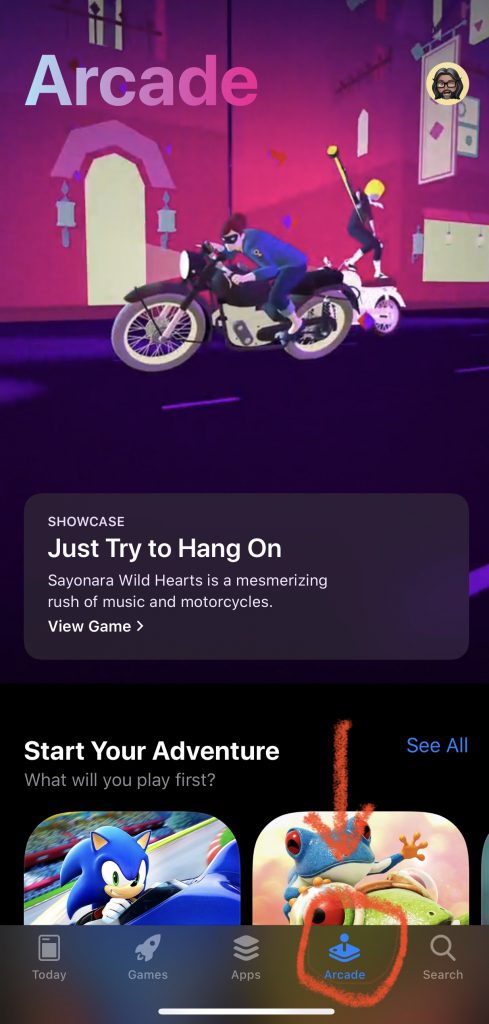 What Comes With Apple Arcade
Apple Arcade is packed with a curated selection of "exclusive" video games. Exclusive can mean a lot of things — and Apple has been a little cagey about describing what that means in this case — but at a minimum, it means the games haven't appeared anywhere else and won't be landing on Google Play for Android phones. Some of the exclusives also mean they won't show up anywhere else — like on PC or console — but that's not the case for all of the games. There's also no word on how long the exclusives will remain exclusive to the Apple Arcade.
Apple promises to have more than 100 in the "coming weeks." They haven't been any more specific about that, but as of now, just hours before launch, the Arcade already has about 70 games loaded up.
All of the games are completely free. That means no purchase price beyond the membership, no in-app purchases and not even any in-game ads. A majority of the games support a Bluetooth controller — like an Xbox One or PS4 controller — but that isn't a requirement. As of this writing, 54 of the 71 games in Arcade supported the controller. All of the games can also be downloaded and played completely offline.
The Games
The selection of games currently available on Apple Arcade is generally very high-quality. I've played a bit with every game and only a few struck me as genuine duds. Instead, the question is, which ones will you ultimately spend the most time with. A lot of that will have to do with your tastes. A quick run-through of the games finds a nice selection of action, adventure, and role-playing games (about a dozen), a handful of card games (three to be specific), about a half dozen platformers, more than a dozen puzzle games of different sorts, a few racers and sidescrollers, plenty of strategy, and a nice mix of sort of uncategorizable games like "Cricket Through The Ages." There is also a surprisingly robust selection of what I've termed "narrative" games. The only category I found surprisingly light was for fans of word games. There are just two so far.
The games are developed by a virtual whos-who of indie game makers including folks like Milky Tea, Klei, Capybara, Die Gute Fabrik, Q, and Zach Gage — who teamed up with "Adventure Time's" Pendleton Ward for their creation. There are also a number of big publishers in the mix, including Capcom, Konami, Lego, and Ubisoft.
This is all a roundabout way of saying, there's a lot, a lot a lot of really good games in Apple Arcade. There are so many, in fact, that making a list of the best is almost antithetical. That said, there are a few I simply loved playing over the past few days.
The Not-A-List List
Let's start with Frogger. I hate to admit this as a child of the 80s, but I sort of hated that classic Konami arcade game when I was a kid. I was just so bad at it and being the guiding hand behind all of those frog deaths was simply too much. But the thing is, this updated version of the game is made by Q Games, so you know it's going to be amazing. And "Frogger in Toy Town" is.
The updated look, the fresh take on frog traversal, the physics and stickiness of the frog all come together to deliver an amazing experience. Unfortunately, I still kill a lot of frogs.
Capcom has a sort of mixed history with mobile games, but its Apple Arcade offering is just the right mix of tremendous production value, otherworldly story and visuals and distinct gameplay that "Shinsekai Into the Depths" is well worth … digging into.
Not to minimize the hard work that obviously went into their latest creation, but slap Zach Gage and Pendleton Ward onto any game and it's going to be amazing. In this case, they teamed up with Totally Choice to create a puzzle title meets card game, and it's every bit as excellent as you might imagine. "Card of Darkness" drops you in a colorful, insane world packed with dungeons. You play through the dungeons by picking up cards and absorbing the damage or taking on the effects. The goal is to work your way through the grid — one card or stack of cards at a time — to get to the exit. As the game progresses the creatures you take on become increasingly complex to deal with, and the absurdity of the whole ordeal matches in tempo. It's a fantastic way to spend an evening.
Capybara Games — another fan-favorite developer — created "Grindstone" which takes match-three games to such a cartoonish, violent extreme that it's almost unrecognizable. Players control Jorj as he hacks enemies into little bloody chunks in his quest to get up a mountain. The longer your pathway of violence traces through the colorful creeps the more enjoyable the end result.
I could go on all day talking about how great the games on Apple Arcade are, but that sort of defeats the purpose of making a list. So instead I'll mention one more: "Hot Lava." I want to call this out not just because it's fun and because it is made by Klei Entertainment, but because it is the sort of game that simply shouldn't be possible on a mobile phone. Well, possible and fun. "Hot Lava" takes the childhood premise that your entire floor has turned into hot lava and runs with it … literally. The game is a first-person parkour game that has you maneuvering your toy figure across an obstacle course over a massive bed of lava. There's no auto-aiming here, no assist. You have to manually tap a button to jump and another to grab all while maneuvering with your thumbstick. It sounds like it just wouldn't work, but it does and it's loads of fun to play.
These are just a few of my favorites, but since the service is free for a month, and everything in it is entirely free to play, dive in and pick our your own favorites to play. That's sort of the point.
If you simply must see the full list of games currently in Arcade, this is what was there as of the launch of iOS 13.
| | |
| --- | --- |
| Game | Publisher |
| Agent Intercept | PikPok Games |
| Assemble With Care | UsTwo Games |
| Atone: Heart of the Elder Tree | Wildboy |
| BattleSky Brigade Harpoon | Battle Brew Productions |
| Big Time Sports | Frosty Pop |
| Bleak Sword | Luis Moreno Jimenez |
| Card of Darkness | Zach Gage |
| Cardpocalypse | Gabrinous |
| Cat Quest 2 | Gentlebros Games |
| ChuChu Rocket! | Universe/Sega |
| Cricket Through the Ages | Free Lives |
| Dead End Job | Headup |
| Dear Reader | Local Number 12 |
| Dodo Peak | Moving Pieces Interactive |
| Don't Bug Me | Frosty Pop |
| Down in Bermuda | Yak and Co |
| Dread Nautical | Zen Studios |
| Earthnight | Cleversoft |
| Exit the Gungeon | Devolver |
| Explottens | WeRplay |
| Fledgling Heroes | Subtle Boom |
| Frogger in Toy Town | Konami |
| Grindstone | Capy |
| Hexaflip | Rogue Games |
| Hot Lava | Klei Entertainment |
| HyberBrawl | Milkytea |
| Jenny LeClue | Joe Russ and Ben Tillett |
| King's League II | Kurechii |
| Lego Brawls | Red Games |
| Lifeslide | Dreamteck |
| Mini Motorways | Dinosaur Polo Club |
| Murder Mystery Machine | Blazing Griffin |
| Mutazione | Die Gute Fabrik |
| NeoCab | Chance Agency |
| Oceanhorn 2 | Cornfox & Bros. |
| Operative 41 | Shifty Eyes Games |
| Outlanders | Pomelo Games |
| Over the Alps | Stave Studios |
| Overland | Finji |
| PaintyMob | Fleel Punk |
| Patterned | Borderleap |
| Pinball Wizard | Frosty Pop |
| Possessions | Noodlecake |
| Projection First Light | Blowfish and Shadow Play |
| Punch Planet | Block Zero |
| Rayman Mini | Ubisoft |
| Red Reign | Ninja Kewl |
| Sayonara Wild Hearts | Simogo |
| Shantae and the Seven Sirens | Wayforward |
| Shinsekai Deep Sea | Capcom |
| Skate City | Snowman and Agens |
| Sneaky Sasquatch | RAC7 |
| Sonic Racing | Hardlight/Sega |
| Spaceland | Tortuga Team |
| Speed Demons | Radian Games |
| Spek | RAC7 |
| Spell Drifter | Free Range Games |
| Spidersaurs | Wayforward |
| Stellar Commanders | Blindflug Studio |
| Stranded Sails Explorers of the Cursed Islands | Shifty Eyes Games |
| Super Impossible Road | Rogue Games |
| Tangled Tower | SFB Games |
| The Enchanted World | Noodlecake |
| The Get Out Kids | Frosty Pop |
| Tint | Lykke Studios |
| Towaga Among Shadows | Noodlecake |
| Various Daylife | Square DokiDoki |
| Way of the Turtle | Illusion Labs |
| What the Golf | Triband |
| Where Cards Fall | Snowman and the Game Board |
| Word Laces | Minimega |