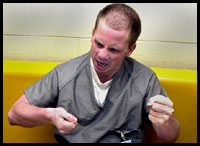 Jolting Words From Jail
October 28, 2002
He speaks of death and killing through pale, chapped lips. Watches for a reaction through pale blue eyes.
Blank-faced, Sean Paul Hanify tries to explain.
When I'm hurting somebody, I want to see them.
I want to crash their skull.
And I want to get them with that knife.
And I like to hear the sounds of the pounding.
And I like to see the breathing when I'm killing them.
And when I'm killing somebody, I don't care I'm killing them.
The words fill the silence of the Denver County Jail's visitation room.
Hanify, 31, glances up at the Rocky Mountain News reporter he's invited here to confess to killing as many as seven men. Police say it may be as many as eight. He has been charged with one murder and police are looking seriously at four others.
The investigation into the possible serial killings began when police arrested Hanify in August after he crashed a car that belonged to a man who had been tortured, beaten, stabbed and set on fire. When police suggested they might have DNA evidence and fingerprints, Hanify confessed to the murder of Ed Brown, a 59-year-old resident of Denver's Capitol Hill neighborhood.
Hanify describes his alleged crimes as art, each a performance requiring a personal critique. He speaks of some in vivid detail. Others, he refuses to talk about.
His pale and placid face flushes with excitement when he talks about his "art."
His arms, locked in front of his chest or resting casually on the table for much of the two-hour interview, flail into action when re-enacting the swing of a hammer or the jab of a knife.
He considers himself a "nice person" and sees no contradiction between that and the brutality he describes.
His public defender says Hanify is the product of fetal alcohol syndrome, child abuse and mild mental retardation.
"Many of his statements are delusional and incredible," says Hollynd Hoskins.
But Hanify insists he's telling the truth, though he admits he's talking now because he wants to be famous.
I'm a very generous, friendly person.
A generous, friendly, nice person.
Killing is just a personal choice and a personal thing; it's something private.
It's not just a job, it's an adventure.
'I had a perfectly normal childhood'
Hanify grew up in Gillette, Wyo., an hour's drive from Devil's Tower and home to 15 coal mines.
"I had a perfectly normal childhood," he says, sitting erect in the room's canary yellow chair. "I grew up in a Leave it to Beaver family."
It was an adoptive family, one that he became a part of at the age of 2 when Richard and Glenda Hanify made him their son.
His parents separated when he was 11 and divorced two years later.
"He was a normal kid. He was small. He was smart. He has a pretty high IQ," says Larry Bowens, who met Glenda in 1984 and later married her. "I never thought he was violent."
His mother taught psychology at a community college at night and worked for the state during the day. She did not respond to requests for comment. Hanify's father declined to comment, through his current wife.
Hanify earned money on a paper route. He had a dog, a Sheltie named Cuddles.
He grew up going to schools with names like Wagon Wheel, Paint Brush and Sage Valley.
"The reason I remember him is he had a good attitude when he came to practice and he was always eager to please us as coaches," says Dirk Pinon, a Sage Valley Junior High physical education teacher. "It's a shame. He had a lot to offer, that's for sure."
Pinon says despite Hanify's success as a wrestler, the other students teased him and he didn't have many friends.
"People made fun of him because of his cleft palate, and it was pretty severe. I know he probably had a lot of frustrations and problems."
Bowens says Hanify's mom took him to Denver to correct the cleft palate. But even after the successful operations, he seemed bothered by it.
Hanify ran away from home at 16, Bowens says, shortly after Bowens married the teen's mother.
"In the middle of the night, he crawled out of the basement window and hitchhiked to Denver," Bowens says. Hanify says his family life was strained by his need to find his biological parents and a brother he says he lost in a foster home.
"We would have arguments and fights (about how) I can't meet my brother," Hanify says.
Hoskins, his court-appointed attorney, says Hanify was placed in a foster home when he was 2, after being physically and sexually abused.
"Social services did get involved," Hoskins says. "His natural mother was an alcoholic."
Though only 2 when he was adopted, Hanify claims specific memories of his birth family.
"I remember a lot of violence in the family but not directed toward me," he says. "I have a memory of my brother beating on somebody. I feel when I do the same thing he does, it brings attachment to me."
Hoskins says she has confirmed that Hanify had a sibling, but hasn't yet determined whether it was a brother or sister.
Hanify's earliest desires were to kill someone, he says. He says it brings him closer to his family. He says he talks to his brother when he kills, that his brother taunts him and at times hints at what he should do.
'An academy award to say the least'
Although Hanify has talked to police about several of his killings, he has so far been charged with just one – that of Ed Brown.
"That was an Academy Award to say the least," Hanify says of the crime.
Brown was different from Hanify's other alleged victims because it was personal – the victim a man Hanify knew. A man Hanify says double-crossed him.
Hanify claims Brown asked him to burglarize his house in 1997 so he could collect the insurance money. Then Brown turned him in when he tried to sell Brown's television to a pawnbroker.
Police say they believe the story to be true.
"Every day I was in that cell I just kept thinking about how I could kill and torture Ed Brown," Hanify says. "When I got out, Ed Brown was waiting at the bus station for me."
Hanify bided his time, regaining Brown's trust. Then at 1 a.m. Aug. 5, 2002, Hanify says he went to Brown's home to kill him.
Brown let him in.
"He said, 'Did you learn anything in prison?' and I said. 'Yes,' and I pulled out the hammer and I hit him right here with the side of the hammer," Hanify says pointing to his temple.
"I closed the door, locked it, put the chain on the door," he says. "I turned the TV on. I turned the volume up. I turned on the bathtub. I went and got a knife."
Hanify described what followed in gruesome detail.
After he killed Brown, Hanify says, he soaked in a warm bath, smoked a cigarette, had a bowl of soup and then left the tiny, blood-splattered apartment.
Hanify says he visited Brown's apartment several more times over the next couple days, to further disfigure and sexually mutilate the body, to clean up some of the mess and finally to try to burn the building down.
Hanify was captured one week later by Denver police.
'I was too blitzed to remember what happened'
Hanify was 16 when he ran away from home and arrived in Denver.
He survived as a street hustler, making a living as a prostitute along Colfax. Over the course of two and a half years, Hanify, who says he's bisexual, was arrested at least 13 times for prostitution, according to court records.
"I did it for money and it became easy," he says. "It was for the glamour and the excitement."
Two of his customers were among three men stabbed to death on Capitol Hill during a 10-month period in 1992.
Hanify believes he may have killed two of them. Police believe he could have killed the other man as well.
"I was too blitzed to remember what happened," Hanify says of the death of Anthony Carr, 33, on Dec. 29, 1992. He says he was on "speed and anger and LSD."
Police found Carr's body covered with a blanket near his Christmas tree.
Denver Police Lt. Jon Priest says the death of Carr and the Sept. 15, 1992, killing of Robert Ferrell, found stabbed and beaten in his home, seem most closely linked.
Police questioned Hanify in both deaths at the time, but did not have enough to arrest him.
"We are no closer today then we were back then," Priest says. "Other than he has now been arrested in connection with another case that seems similar."
Police are also reviewing the death of James Holman, found stabbed to death Feb. 13, 1992.
'The first murder was a curious feeling'
He thinks hard about the question, his head bowed, eyes clinched shut. Then he looks up:
"Me making a decision to change my life."
That's how Hanify describes his decision to kill his first person.
"It was a test of manlyhood (sic), to get rid of that person and to talk to my brother and answer those voices and not be afraid to act out my inhibitions and to do it and I did it."
The decision made, Hanify took a trip to San Francisco shortly before his 18th birthday to find his first victim.
Like all of the victims to come, the first was a man much bigger than Hanify's 5-foot-1, 112-pound frame. The man was alone in the early morning hours along Fisherman's Wharf.
Hanify says he struck the man in the face with a hammer. After delivering the initial blow, the look of terror on the man's face stopped him.
"It hurt my feelings to see that guy go through that pain," he says. "I just couldn't do it; I couldn't bring myself to do it. He reminded me of this harmless person that didn't do anything to anybody."
He says it was the disappointment of his brother that he heard in his head that led him to carry out his second attack about a week later. It became his first murder, he claims.
"The first murder was a curious feeling. I wanted to know what that person was saying to himself when I was killing him when he looked at me. What are you thinking, what they are thinking about."
Priest would not discuss specifics about Hanify's claims, but says police are investigating Hanify's possible connection to killings outside Colorado.
Hanify says he returned to Denver soon after his first killing, but he claims to have murdered a second person in San Francisco two years later.
He declined to talk in detail about that murder or another one he says occurred in Utah.
San Francisco police officials say they can't investigate the killings he claims he committed there without more details about the crimes.
He can feel the urge to kill coming on
I enjoy killing people.
Hanify says it flatly, like someone talking about a hobby. He says that when it is time to kill, he can feel it coming on.
He says it was like that with Mark Davis, a homeless man who was passed out under a bridge near Washington Street on a summer night two years ago.
Hanify says he beat Davis to death with a 30-pound rock and then walked home.
At sunrise he returned to clean up the crime scene. He says he took one dollar from Davis' pocket, his boom box and a pack of cigarettes.
Denver police say they hope to file murder charges against Hanify in the Davis killing in the near future.
'I didn't think about right and wrong; I just do it'
Hanify doesn't like that his court-appointed psychologist apparently feels sorry for him.
"He said I had a sickness and that's what angers me," he says. "I don't consider myself a sick person."
Yet Hanify says he doesn't think he is competent to stand trial for his killings and that he wasn't responsible for them.
"When I step outside myself and I look at myself in the mirror, I don't believe I was responsible for those killings," he says. "While those people are being killed I didn't pay attention to anything but killing them and I didn't think right and wrong; I just do it."
Hanify then explains why he keeps killing.
"Personally I think it's a beauty contest," he says. "I want to know which (killing) looks better."
His public defender, Hoskins, who requested that this article not be published, would not talk about Hanify's pending murder trial but did describe his background.
"The evidence we have is that he does suffer from fetal alcohol syndrome and he has a long history of mental illness," Hoskins says.
'It doesn't scare me. Dying doesn't scare me'
Hanify's interest wanes as the interview progresses. He returns to Brown's death more and more frequently. He talks of the detectives investigating him, ponders his punishment if convicted and answers without pause when asked about his future:
Do you think you'll get the death penalty?
Yeah.
Are you worried?
No.
Why not?
It doesn't scare me. Dying doesn't scare me.
Do you deserve to be punished?
No, don't believe I do, because nobody is innocent.
Would you kill again?
At this point, I'm retired. I have to make it right in my mind to kill again, I guess. I don't believe I will ever kill again.
I believe I'm retired.
This story original ran in the Rocky Mountain News on Oct. 28, 2002