Pre-Orders Open Soon For Nostalgia-Fueled Handheld
August 30, 2019
1
By
Brian Crecente
There's a new handheld going up for pre-order next week that promises to deliver collections of Atari, Data East, Namco, and other classic video games via cartridges.
The system ships on March 20, 2020.
The Evercade handheld system features a 4.3-inch screen (the same size as the original PlayStation Portable) which can support both 4:3 and 16:9 screen ratios, an HDMI output for connecting to a television, a 3.5mm audio jack, and rechargeable battery with an estimated four hours of playtime.
The handheld has a direction pad to the left of the screen and four face buttons to the right. It also features menu, start, select, and two shoulder buttons as well as volume controls. Players can save at any point in a game and then come back to it later with the menu button.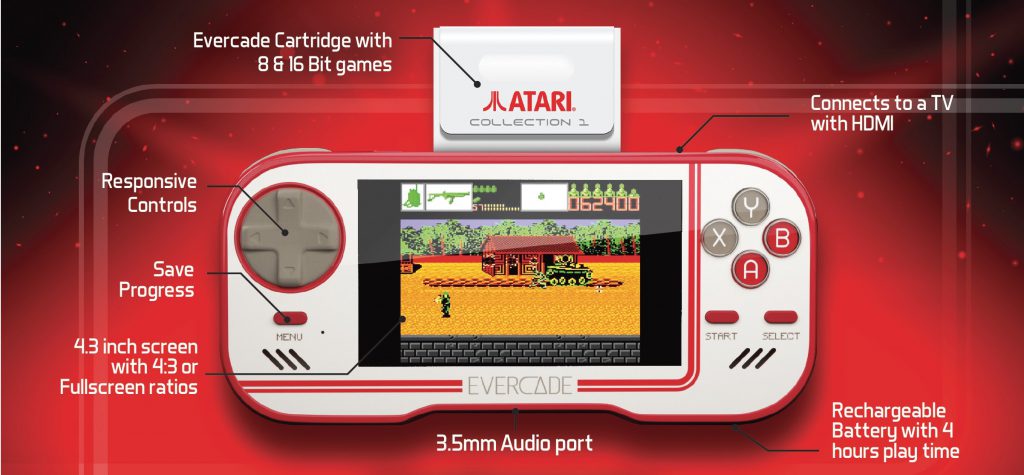 Most interesting, though, is the fact that the system uses special Evercade cartridges, each of which holds six to 20 8- and 16-bit games. The current line-up of publishers supporting the system include Namco, Atari, Interplay, Data East, Piko, and indie studio Mega Cat. The company behind the system say they have more than 100 games confirmed for the system.
The system will sell for $80 for a system that includes one cartridge, or $100 for a system that comes with three. Cartridges will sell for $20 a pop.
Evercade's news lands at a time of increased interest in retro gaming content, with companies like Nintendo, Sony, and Sega releasing game-packed mini versions of some of their classic consoles.