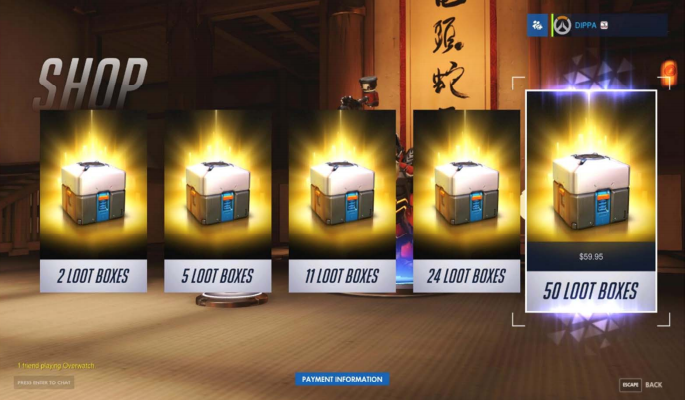 Singapore Minister Says Loot Boxes Need New Laws
August 29, 2019
Video game loot boxes are novel gambling products designed to draw in a younger audience and officials around the world need to figure out how to regulate them, Josephine Teo, Singapore's second minister for home affairs, said during her opening remarks at the annual Singapore Symposium on Gambling Regulation and Crime.
Teo opened her remarks to the gathering of casino regulators, government officials and criminal investigators by pointing to the changing landscape of gambling and what she identified as two key challenges.
The first was dealing with the changes in gambling brought about by online technology, she said. The second is the changing preferences of new generations of potential gamblers.
"In particular, the younger generation is less interested in traditional gambling products such as jackpot machines and horse-racing," she said in her prepared speech. "Unsurprisingly, novel products are being developed to appeal to them.
"Regulators around the world will need to figure out how to regulate these new products. "
The problem is two-fold: some traditional gambling machines are starting to become more like computer games, tricking players into thinking they are skills-based. On the other side, some computer games, she said, seem to be using the tactics of gambling.
"Conversely, computer and mobile gaming products have incorporated elements of gambling," she said. "One example is loot boxes, which are randomized in-game bundles, that gamers can purchase. The pay-out of the loot box is assigned by chance, and can include in-demand top prizes such as powerful weapons or skins that enhance the game experience. Some of us who are not so familiar with the digital world, still struggle with what the joy and the excitement is with these virtual prizes. But for the people who are involved in the game and are vested in it, this certainly engages their attention to a rather distinct degree."
Both sides of the issue, she said, will require more legislation and regulation.
"Regulators and law enforcement agencies need to keep up to date with these developments and make sure our policies and rules remain effective," she said.
You can read Teo's full speech here.
Her statements come just weeks after the U.S. Federal Trade Commission convened a "loot box workshop" to look at the in-game transaction landscape, research examining consumer behavior, and discuss consumer awareness and education around the popular form of video game monetization. Public comment about the issue can still be submitted to the FTC on its website through Oct. 11.
The FTC began looking into loot boxes at the request of Senator Maggie Hassan (D-NH) following a letter she sent to the Entertainment Software Ratings Board asking for the group to review its treatment of loot boxes.
Last year, in response to the growing concern surrounding loot boxes in video games, the ESRB said it would continue to make enhancements to ensure parents continue to be well-informed as the industry evolves. The group did not directly address what it might do in terms of loot boxes, microtransactions, and ratings.
In November, the head of the International Game Developers Association called for the game industry to create a unified approach to its use of loot boxes.